See Our Celebrity Concerts
in Pigeon Forge.
Browse below to see some of the fantastic celebrity stars we have coming to our theater in Pigeon Forge. We are super blessed to have some of the biggest names in Country music visit us! Be sure to plan your next trip soon so you can see the stars in action! Call 865-453-2003 or book online. For handicap seating, please call Country Tonite directly. Discounts do not apply to Celebrity Concerts.
Wynonna Judd
Special Guest – Johnny Counterfit
Friday, April 22, 2022 at 8:00 PM - $41.00 + tax
Respected by the millions of fans who are drawn to her music and undeniable talent, Wynonna's rich and commanding voice has sold over 30-million albums worldwide spanning her remarkable 34-year career. As one-half of the legendary mother/daughter duo "The Judds," Wynonna was once dubbed by Rolling Stones "the greatest female country singer since Patsy Cline." This iconic performer has received over 60 industry awards, with countless charting singles, including 20 No.1 hits such as "Mama He's Crazy," "Why Not me," and "Grandpa, (Tell Me 'Bout The Good Ole Days)."
Wynonna and her band The Big Noise, led by her husband/drummer/producer, Cactus Moser, released their debut full-length album in February 2016 via Curb Records to critical acclaim. Wynonna has described the new sound as "vintage yet modern" and a "return to the well." It's a rootsy work encompassing country, Americana, blues, soul and rock. The album features special guests Derek Trucks, Jason Isbell, Susan Tedeschi and Timothy B. Schmit. NPR's Ann Powers noted that, "With her tight band behind her after touring together for several years, she just sounds like she's home…You can just feel the grin on her face."
Shenandoah
Friday, May 20, 2022 at 8:00 PM - $44.00 + Tax
When country music lovers talk about the greatest groups in the genre, Shenandoah is always at the forefront of any discussion. Fueled by Marty Raybon's distinctive vocals and the band's skilled musicianship, Shenandoah became well known for delivering such hits as "Two Dozen Roses", "Church on Cumberland Road" and "Next to You, Next to Me" as well as such achingly beautiful classics as "I Want to be Loved Like That" and the Grammy winning "Somewhere in the Vicinity of the Heart" duet with Alison Krauss. Shenandoah has recorded ten studio albums (3 certified gold) and placed 26 singles on Billboard's Hot Country Songs chart. The boys from Muscle Shoals have left a potent legacy at country radio with over a dozen #1 records.
Diamond Rio
Friday, June 24, 2022 at 8:00 PM - $39.99 + Tax
Formed in 1989 in Nashville, TN the band consists of Gene Johnson (mandolin, tenor vocals), Jimmy Olander (lead guitar, acoustic guitar, banjo), Brian Prout (drums), Marty Roe (lead vocal), Dan Truman (keyboards), and Dana Williams (bass guitar, baritone vocals). Diamond Rio's most recent release I Made It, is their tenth studio album. The title track was co-written by the band's lead guitarist Jimmy Olander and features 11 new songs. Diamond Rio signed to Arista Records and in 1991 with the release of "Meet in The Middle" became the first country music group in history to reach No. 1 with a debut single. The band is also known for their hits "How Your Love Makes Me Feel," "One More Day," "Beautiful Mess," "Unbelievable," "In A Week or Two," and more. They released their first-ever autobiography, Beautiful Mess: The Story of Diamond Rio on Thomas Nelson in 2009.
The band known for playing every note on every album recently celebrated their 30th Anniversary, has sold more than 10 million albums, won a Grammy Award, a Dove Award, six Vocal Group of the Year wins (CMA and ACM), released two Greatest Hit albums, a live and Christmas project, earned five multi-week no. 1 singles, 22 Top 10 singles, three certified Platinum and five gold albums, released an autobiography – and with zero band member changes. Known for their charity commitments including long-time spokespersons for Big Brothers Big Sisters, the band has raised over $1,000,000.00 for non-profits and received the Minnie Pearl Humanitarian Award.
Ronnie Milsap
Friday, July 22, 2022 at 8:00 PM - $44.00 + Tax
One of country music's most popular and influential performers of the 1970s and 1980s. He'd go on to top the country chart more than a dozen times with such enduring hits as "Let My Love Be Your Pillow," and "What a Difference You've Made in My Life." He became one of the most successful and versatile country "crossover" singers of his time, appealing to both country and pop music markets with hit songs that incorporated pop, R&B, and rock and roll elements. His biggest crossover hits include "It Was Almost Like a Song," "Smoky Mountain Rain," "(There's) No Gettin' Over Me," "I Wouldn't Have Missed It for the World," "Any Day Now," and "Stranger in My House." He is credited with six Grammy Awards including four turns as Male Vocalist of the Year and 35 No. 1 country hits, third to George Strait and Conway Twitty. He was selected for induction into the Country Music Hall of Fame in 2014. And even with all the #1 chart-toppers under his belt — not to mention avidly-received live shows across the world, Ronnie Milsap is still growing and surprising long-time fans.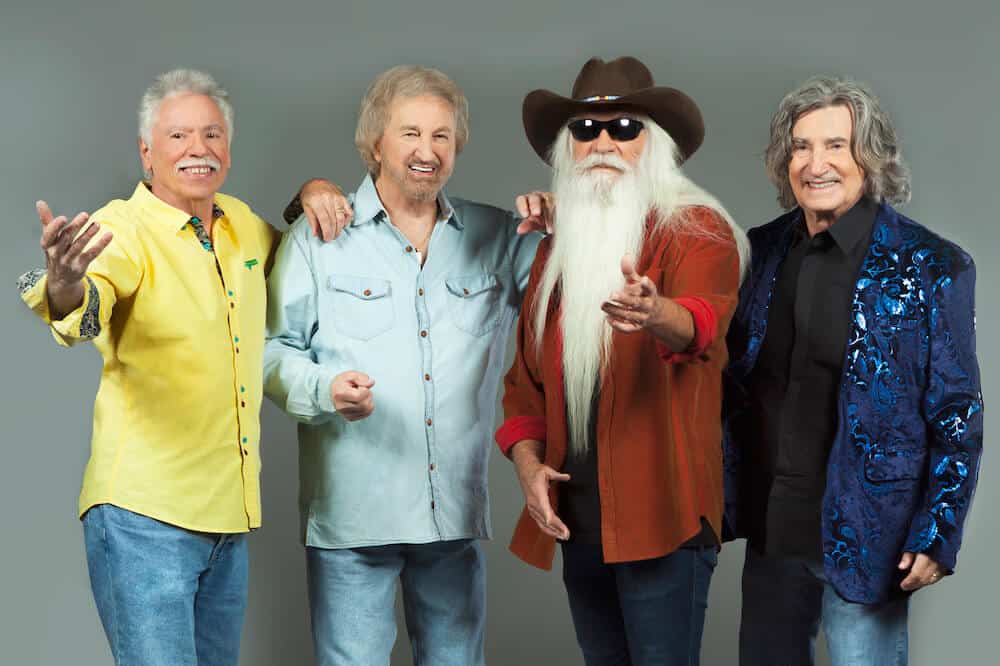 The Oak Ridge Boys
Friday, August 19, 2022 at 8:00 PM - $41.00 + tax
Theirs is one of the most distinctive and recognizable sounds in the music industry. The four-part harmonies and upbeat songs of The Oak Ridge Boys have spawned dozens of Country hits and a Number One Pop smash, earned them Grammy, Dove, CMA, and ACM awards and garnered a host of other industry and fan accolades. Every time they step before an audience, the Oaks bring four decades of charted singles, and 50 years of tradition, to a stage show widely acknowledged as among the most exciting anywhere. And each remains as enthusiastic about the process as they have ever been. Their hits include "Elvira," "Dream On," "(I'm Settin') Fancy Free," "Bobbie Sue," "American Made" and "Thank God for Kids."
Nitty Gritty Dirt Band
Friday, September 23, 2022 at 8:00 PM
Rodney Atkins
Friday, October 21, 2022 at 8:00 PM - $36.00 + tax
With eight Top 5 singles, six No. 1s, and 1 Billion career on-demand streams under his belt, Atkins is one of Country musics most prominent artists. Continuing to be recognized as a powerful voice on Country radio, his Platinum-selling No. 1 Watching You earned the songwriter a BMI Million-Air award and the top spot on Country Airchecks top-played songs of the decade list. Atkins was the second most-played male artist of the decade overall. He has also sold over 11 million units and earned ten career Gold, Platinum and Multi-Platinum RIAA certifications to date, including his latest Gold-certified single, Caught Up In The Country (feat. The Fisk Jubilee Singers), which also set the record for longest-running single in Billboard Country Airplay history at 57 weeks. Atkins recently performed on NBCs TODAY Show, GMAs Strahan & Sara, and FOX & Friends. Rodneys latest single A Little Good News is available now.
Gene Watson
Friday, November 18, 2022 at 8:00 PM - $36.00 + tax
This masterful country stylist from Houston, Texas has been thrilling audiences for more than 50 years. Gene Watson's tally of 75 charted titles, 23 top-10 hits and 6 number-one records has led to membership in the Texas Country Music Hall of Fame. Radio listeners are still transfixed whenever classics like "Farewell Party," "Fourteen Carat Mind" or "Love in the Hot Afternoon" are played.
The depth of emotion in his singing, his brilliant phrasing, his jaw-dropping range and the power in the lyrics he chooses, are all factors in the awe he inspires in both fans and his musical peers. Considered one of the finest pure-country singers of his generation, Watson offers up one of the best traditional country shows in the business. His stunning voice captivates audiences and keeps his fans coming back again and again.
Country Tonite 2023 Show Schedule
When can you come see our Country Tonite Show and our celebrity concerts in Pigeon Forge? Check out our show schedule!
Best Show in Pigeon Forge
Come See Our Country Tonite Show!