See Our Celebrity Concerts
in Pigeon Forge.
Browse below to see some of the fantastic celebrity stars we have coming to our theater in Pigeon Forge. We are super blessed to have some of the biggest names in Country music visit us! Be sure to plan your next trip soon so you can see the stars in action! Call 865-453-2003 or book online. For handicap seating, please call Country Tonite directly. Discounts do not apply to Celebrity Concerts.
An Evening with Dailey & Vincent
Friday, April 28, 2023 at 8:00 PM - $41.00 + tax
Bluegrass music veterans Jamie Dailey and Darrin Vincent are coming back to Bristol! The new members of the Grand Ole Opry have been performing together for nearly 20 years and always give memorable performances when they're on stage.
Jamie Dailey grew up singing and playing with family and regional groups in Kentucky and got his big break as the lead vocalist and guitarist for Doyle Lawson and Quicksilver in 1999. Darrin Vincent has performed with his sister, Rhonda Vincent (known as The Queen of Bluegrass) since the age of 6 and was a longtime member of Ricky Skaggs' band, Kentucky Thunder. Grammy Award-nominated Dailey & Vincent have released numerous albums – all have charted on at least one Billboard albums chart. The group won a Dove Award for Best Bluegrass Album with "Singing from the Heart" in 2011.
An Evening with The Bellamy Brothers
Friday, May 26, 2023 at 8:00 PM - $41.00 + Tax
THE BELLAMY BROTHERS: THE LOVE STILL FLOWS…
Howard and David continue to prove that the trail they've ridden to fame has been as unique as their music itself—music that is now celebrating over 40 years of success.
The road that started on the pop music charts in the '70's, took a winding turn into country music in the '80's, paving the way for duos to come, such as Brooks & Dunn, Montgomery Gentry, Big & Rich and previously—The Judds. But before the road forked into country, the musical odyssey of brothers Bellamy started creatively smoldering in their home state of Florida, before exploding nationally amidst the '70's pop music culture of L.A.
An Evening with Diamond Rio
Friday, June 23, 2023 at 8:00 PM - $43.00 + Tax
Legendary country group Diamond Rio recently celebrated its milestone 20th anniversary as a Grand Ole Opry member.  Diamond Rio can boast platinum records, CMA and ACM awards, and Grammy nominations.  Their 1991 smash, "Meet in the Middle," reached #1 on the Billboard Hot Country Songs charts.  The band followed up with multiple chart singles, including the #1 hits – "How Your Love Makes Me Feel," "One More Day," "Beautiful Mess," and "I Believe." Formed in Nashville, Tn the band consists of Gene Johnson (mandolin, tenor vocals), Jimmy Olander (lead guitar, acoustic guitar, banjo), Brian Prout (drums), Marty Roe (lead vocal), Dan Truman (keyboards), and Dana Williams (bass guitar, baritone vocals).
Diamond Rio recently released I made It, their tenth studio album. The title track was co-written by the band's lead guitarist Jimmy Olander and features 11 new songs.
An Evening with Randy Travis
More Life Tour - performed by James Dupre, Randy Travis & special guest Lee Newton
Friday, July 21, 2023 at 8:00 PM - $54.00 + Tax
"During a 25-year recording career, Travis became known as the epitome of what
country music should sound like."
His career was halted in its tracks when Randy suffered a massive stroke in 2013. His miraculous return was saluted with a tearful standing ovation when Garth Brooks inducted him into the Country Music Hall of Fame in 2016. In 2019, Randy and writer Ken Abraham documented the dramatic highs and lows of his life in an autobiography titled Forever and Ever, Amen: A Memoir of Music, Faith and Braving the Storms of Life.
Storms of Life is the record that originally made Randy Travis a pivotal figure in the history of country music. Its reissue emphasizes what a landmark it was/is, and its previously unheard performances underscore this artist's stature as one of the greatest vocalists in the annals of country music. The lost-love ballad "The Wall" sounds like an overlooked country classic. Stuttering guitar and scampering fiddle accompany Randy's toe-tapping delivery of "Ain't No Use." His performance on the honky-tonk heartache waltz "Carryin' Fire" is a work of sheer brilliance.
Indeed, everything about Storms of Life mark Randy Travis as a monumental, masterful stylist for the ages. Both the artist and this recording are American music treasures.
Featuring - James Dupre'
James Dupré was named one of Rolling Stone's "10 New Country Artists You Need To Know," Dupré has over 10 million views to his credit on YouTube, with three charted singles on the Billboard Indicator chart, including "Another Love Song," "Hurt Good," and "Stoned to Death." His pitch-perfect, baritone voice and high engagement through social media platforms like YouTube led to an invitation to perform on Ellen. Shortly after, he released his debut album It's All Happening in 2010, which charted on Billboard. After signing a record deal with Warner Music Nashville in 2011, Dupré began performing and touring full-time through 2014. Shortly thereafter Dupré appeared on NBC's "The Voice," Season 9, where a four-chair turn ultimately landed him on Adam Levine's team. The father of four, with another one on the way, made his acting debut in the film, "The Price," playing the son of a country singer, portrayed by Randy Travis.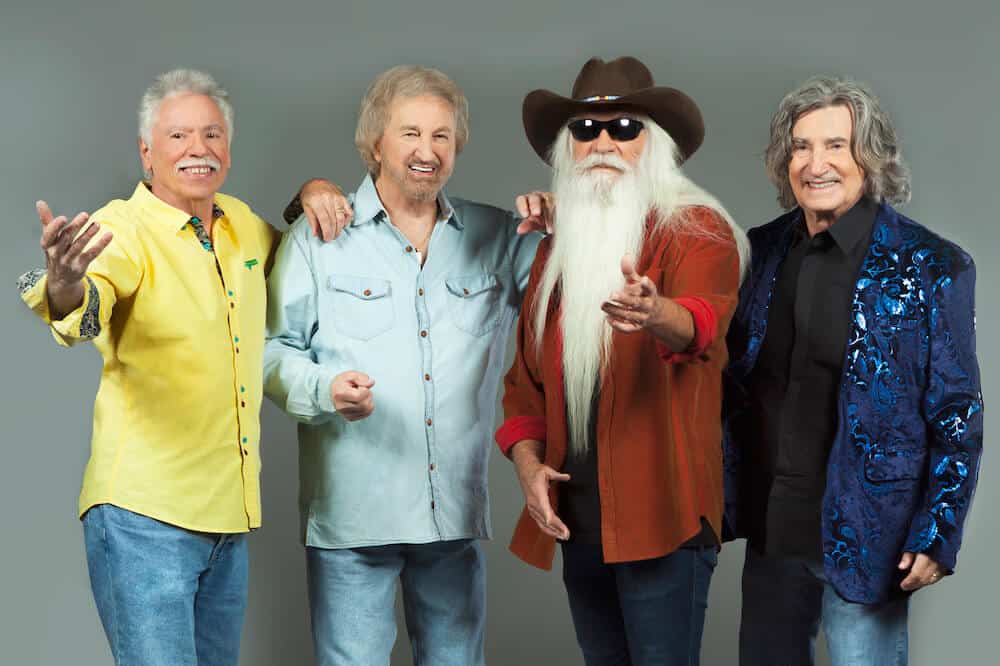 An Evening with The Oak Ridge Boys
Friday, August 25, 2023 at 8:00 PM - $43.00 + tax
Theirs is one of the most distinctive and recognizable sounds in the music industry. The four-part harmonies and upbeat songs of The Oak Ridge Boys have spawned dozens of Country hits and a Number One Pop smash, earned them Grammy, Dove, CMA, and ACM awards, and garnered a host of other industry and fan accolades. Every time they step before an audience, the Oaks bring four decades of charted singles, and 50 years of tradition, to a stage show widely acknowledged as among the most exciting anywhere. And each remains as enthusiastic about the process as they have ever been. Their hits include "Elvira," "Dream On," "(I'm Settin') Fancy-Free," "Bobbie Sue," "American Made," and "Thank God for Kids."
"Always Loretta" The Ultimate Loretta Lynn Tribute Show
Friday, September 29, 2023 at 8:00 PM - $40.00 + tax
Like so many successful performers, native Kentuckian Emily Portman cut her musical teeth singing in church and learning to read music as a member of her high school band. Inspired by her parents' music, her influences were an amalgamation of classic country and classic rock, with a little '80s music mixed in and included Merle Haggard, Jim Croce, and Creedence Clearwater Revival. In college, she joined a choral group, learned the guitar, and began performing professionally at the Corydon Jamboree just across the border in neighboring Indiana. However, when she covered the music of Loretta Lynn, people took notice.
Emily Portman connected with Loretta's longtime backup band, The Coalminers. They agreed to join talents and collaborate to honor the memory and music of this true country music trailblazer with "Always Loretta"—a show authorized by the Loretta Lynn family that includes all the greatest hits and shares intimate stories of Loretta's life through the eyes of those who knew her best.
An Evening with Tracy Byrd
Friday, October 20, 2023 at 8:00 PM - $45.00 + tax
Multi-Platinum Recording Artist
There are many ways to describe Tracy Byrd, but unique, talented, and charismatic just seem to scratch the surface. However, there is one word that ties them all together and is true to their character: Tracy Byrd is Real. Few people sing so honestly from their heart and soul. Tracy Byrd does so in just the right way, combining art, story, and song in perfect unison. Take a look around the site, and explore what the gift of music truly is.
Country Tonite 2023 Show Schedule
When can you come see our Country Tonite Show and our celebrity concerts in Pigeon Forge? Check out our show schedule!
Best Show in Pigeon Forge
Come See Our Country Tonite Show!