5 Popular Country Line Dances That Are Guaranteed to Get Your Boots Tapping
Our Pigeon Forge show is packed with a variety of exciting live entertainment, including some of the best country music dancers in the business! While watching the show in our multi-million dollar theater, you'll be in awe of our performers and get to hear everything from traditional country classics to the hottest hits of today! To get you in the right frame of mind, we're sharing the following 5 popular country line dances that are guaranteed to get your boots tapping:
1. Tush Push
The Tush Push is one of the most popular country line dances and is a 40-count dance that earns its name from its distinctive hip bumps and cha-chas! If you've been on the dance floor at a country music venue anytime over the last 20 years, you've certainly seen this performed! Some of the songs that create a perfect match for the Tush Push include Alan Jackson's "Chattahoochee" and the Brooks & Dunn classic "Boot Scootin' Boogie"!
2. Electric Slide
The Electric Slide is just as well known as the Tush Push and is an easy starting place for those cowgirls and cowboys who want to try line dancing for the first time! This 18-count line dance was originally choreographed by Richard L."Ric" Silver in 1976, and it became a sensation into the late 80s and early 90s. It eventually branched beyond the country genre when it was paired with Marcia Griffiths' Electric Boogie, which is probably playing at a wedding right now! If you prefer the classic country version, try dancing to Tim McGraw's "I Like It, I Love It" or Josh Turner's "Why Don't We Just Dance"!
3. Cowboy ChaCha
Another one of the popular country line dances that are guaranteed to get your boots tapping is the Cowboy ChaCha! While this 20-count dance takes a bit of practice, it is one of the most fun to perform once you have it down! The Cowboy Cha Cha goes with quite a few country songs, but you'll often see it paired with Brooks & Dunn's "Neon Moon". Sometimes you'll also see it accompanied by a more uptempo song like Alan Jackson's "Gone Country"!
4. Bring on the Good Times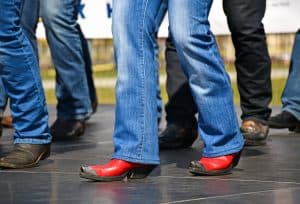 Bring on the Good Times is a 32-count dance that features a combination of claps, slides, and struts, making it a great option when you're transitioning from beginner to intermediate country line dances! The song is paired with Lisa McHugh's song of the same name, which you might be surprised to know has Irish roots despite its traditional country sound! 
5. The Double D
One of the newer country line dances to hit the scene in the last 10 years is the Double D, which is also known as Duck Dynasty! This 32-count dance is performed to "Cut 'em All" by Colt Ford, featuring Willie Robertson, and offers plenty of fun rocking back and forth to keep you moving on the dance floor! See if you have what it takes to rock out to the Double D in addition to all of the classic country line dances!
Now that you know some of the popular country line dances, keep your eyes peeled at our Pigeon Forge show to see if you recognize any of these smooth moves on stage! We look forward to seeing you soon!